In Tokyo, the cyclist feels much dissatisfaction for a road and a building. However, we cannot progress only by speaking those dissatisfaction. Therefore, we praise a place and the company which are kind to a cyclist. It is TBCAWD(Tokyo Bike Conscious Award).
We looked for the building which was kind to a bicycle, a shop, a bicycle parking lot. And we heard the opinion of many people in Twitter.
We finally decided 6 prizes. Seven people were engaged in decision work.

Gen SUGAI (organizer, blogger)
jitensha_jin (magazine, Yama-kei Publishers co.,Ltd.)
Yoko AOKI (journalist, editor)
gogo (bicycle messenger)
Yoshihide SATO (professional engineer)
Tanigu (blogger)
KazunoriYONEDU (blogger)

---

[Building category]
# Gold prize

Marunouchi Nakadori building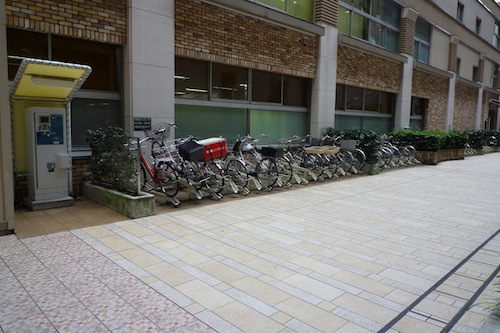 Outline | Marunouchi-Nakadori Building | MITSUBISHI ESTATE OFFICE INFORMATION
When a developer builds a new building, they should make a bicycle parking lot. Then how in the old building? The Marunouchi Nakadori building serves as the reference. There is the bicycle parking of enough scales on the side of this building.

Data of the bicycle parking
Capacity: 21
¥300 /24 hours
¥100 for first 3hours.

View Larger Map
# Silver prize
Tokyo Mid Town
In late years finished "Tokyo Mid Town" is a big building. There are many offices and a shop in this building. A bicycle parking under the ground was made for a cyclist using a shop. The developer achieves the responsibility to a neighborhood and a user.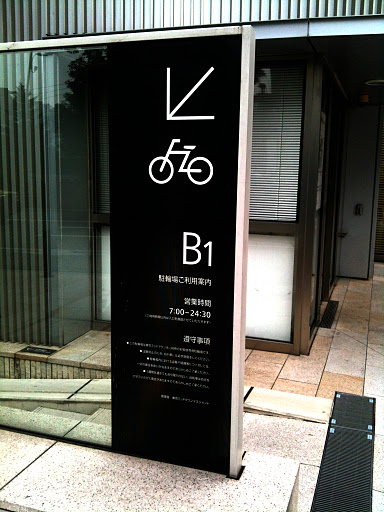 Data of the bicycle parking
¥100/1 hour
Free for first 3hours.

View Larger Map
---
[Department store category]
#Gold prize
Ginza Mitsukoshi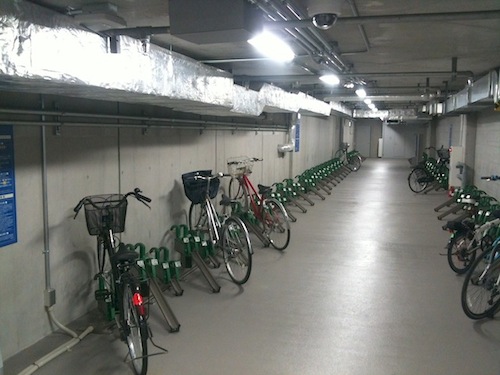 Ginza is a famous and high-quality shopping area of Tokyo. And "Ginza Mitsukoshi" is a representative department store. There is a bicycle parking lot in the basement. Ginza is near to Tokyo bay Alia. The resident of the Tokyo bay aria may go for shopping by bicycle to Ginza.

Data of the bicycle parking
¥100/4 hours
Free for first 2hours.

View Larger Map
---
[shop (cafe) category]
# Gold prize

POPOPEKU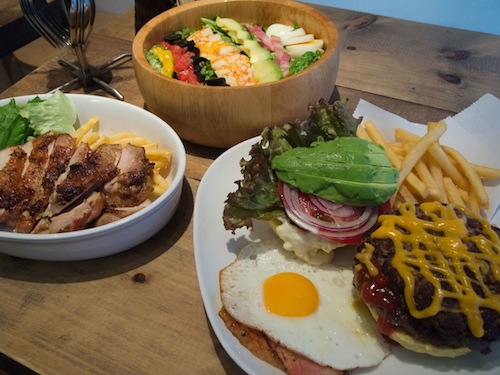 POPOPEKU – 初台のハワイアンダイニング。ランチとディナー。テイクアウトに、ケータリング、パーティーもできます。

"POPOPEKU" is Hawaiian dining in Hatsudai, Tokyo. POPOPEKU has a bicycle rack and welcomes a cyclist. Cyclists gather frequently here.

Shop data
2-43-4, Honmachi, Shibuya-ku, Tokyo
View Larger Map
---

[Person category]
# Gold prize


Naoko BABA (Mainichi Shimbun)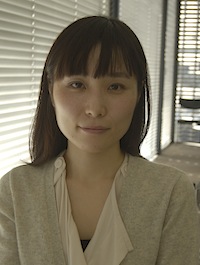 Naoko Baba is a newspaper reporter of Mainichi Shimbun. She writes a very calm article about the problem of the bicycle.
Tokyo gov't sticks with policy to keep cyclists on sidewalks – The Mainichi Daily News
---
[Company category]
# Gold prize

Hatena Co., Ltd.

Hatena Co., Ltd. is a Japanese famous IT company. Hatena has an office in Kyoto and Tokyo. This company recommends bicycle commuting. They pay the subsidy of 20,000 yen /1 month to people going to work by bicycle.
---
We thank for the help of all of you.
We want to carry out this award in the next fiscal year.
Gen SUGAI
---